Magic Winery Bus Tour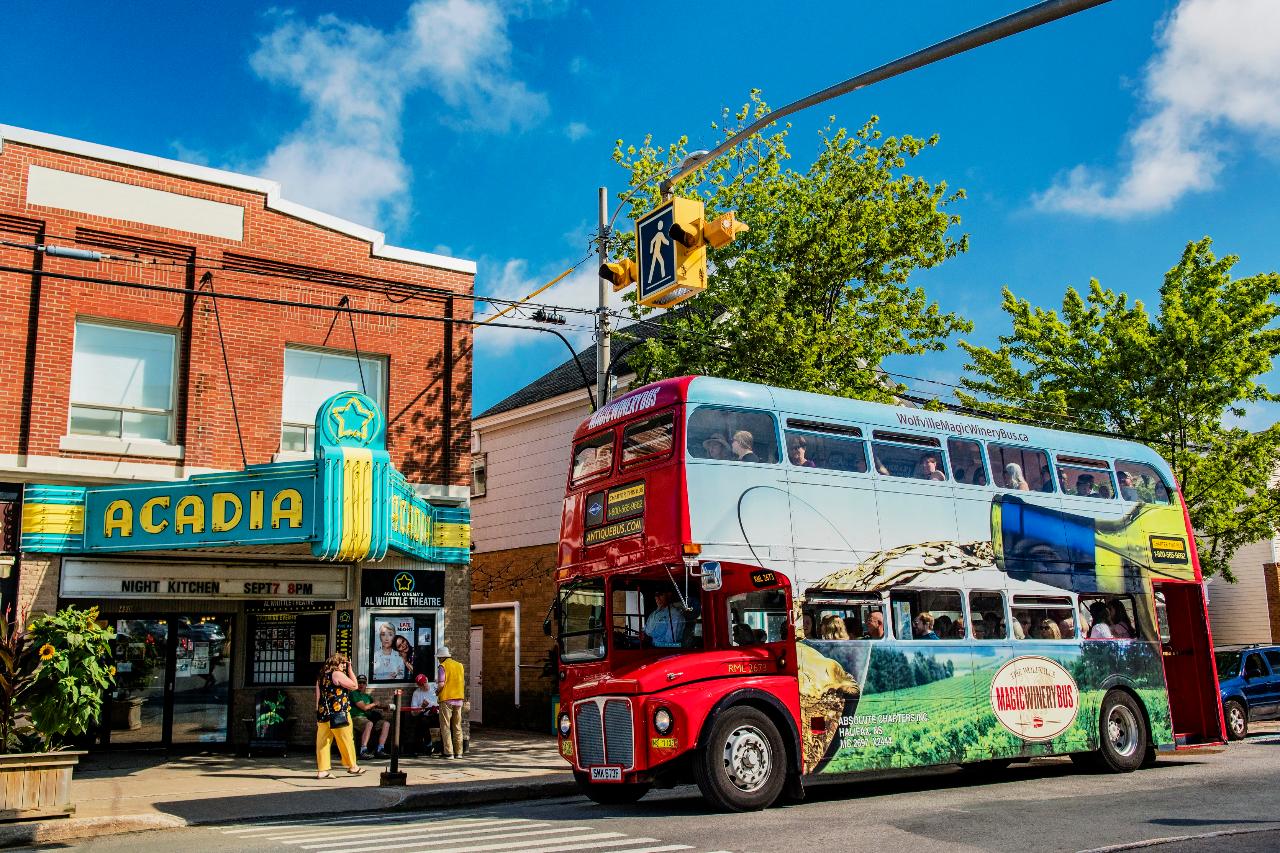 Trvanie: 6 Hodín (cca.)
Poloha: Wolfville, Nova Scotia
Kód produktu: MWB TF
SEATS NOW AVAILABLE FOR BOOKING
Wolfville - in the Annapolis Valley - is home to one of Canada's most exciting and emerging wine regions. You'll be day tripping with us to four memorable Annapolis Valley's wineries and experience unforgettable views and unmatched hospitality on board the romantic Magic Winery Bus.
Departing from downtown Wolfville on board a classic British Double Decker Bus (limited to 30 seats), our engaging guide will curate your journey to Mercator Vineyards, Domaine de Grand Pre, Luckett Vineyards and Gaspereau Vineyards. Each one-hour stop will include a brief tour and two wine tastings. There will be time for you to purchase additional tasting flights and explore the wine shops. Hand held snacks will be available for purchase at Domaine de Grand Pre and Luckett Vineyards.

This is a sequential tour with one-hour stops – for this season, we cannot offer a Hop On, Hop Off service. Extended visits with time on a winery patio cannot be accommodated this season due to pandemic capacity restrictions.

Departures THURSDAY and FRIDAY ONLY.
While we welcome group bookings, guests are encourage to limit group sizes to 10.
Your tour will take approximately 5.5 hours:
Departing at 10:00am returning to Wolfville approximately 3:15pm

Departing at 11:00am returning to Wolfville approximately 4:15pm

Departing at 12:00pm returning to Wolfville approximately 5:15pm
We've created a special day for you - just relax and enjoy! More than ever, you deserve a day to leave your worries behind.
Our Comfort & Safety Promise to You:

The comfort of our guests is very important, we want you to enjoy your day so, with your safety in mind:
Guests will be required to wear a non-medical mask on board

We have limited guests to twenty (30) per departure and each group will travel in sequence, separately

Every day Magic Winery Bus will undergo enhanced sanitization to public health standards

Our Driver, Guides and Staff will wear personal protective equipment when greeting guests

Our Driver, Guides and Staff will not shake guest's hands but there will be lots of friendly waves and smiles

And if you forget yours, a supply of disposal face masks will be available for guest's use
At each winery, every effort will be made to deliver a safe, distanced experience. In some indoor winery spaces, we kindly ask our guests to help one another and give each other physical distance.

Proof of Vaccination Policy
Starting October 4, 2021, the Province of Nova Scotia will implement a proof of vaccination policy for people over the age of twelve who participate in activities which bring groups of people together. Participating in a wine tour falls under the activities requiring proof of vaccination. Magic Winery Bus Limited will be complying with the government policy.

For those guests who can, Magic Winery Bus encourages guests to be or become fully vaccinated fourteen days prior to their scheduled departure. At check-in, guests will be asked to provide proof of vaccination in the form recommended by the Province of Nova Scotia.

Together, we all need to do our part to keep ourselves and those around us healthy. Being fully vaccinated means we will all have the opportunity to enjoy normal activities again, comfortably and safely.

Our Health and Travel Restriction Policy
If the departure day you booked is cancelled or you are unable to be on board both due to preventative public health measures, we are happy to reschedule your experience or issue a refund. Both options are at no additional cost to you.

Our Admission Policy

We really appreciate your business and your confidence in us. While our admissions are non-refundable, you have options; you are welcome to reschedule to a new day of your choosing or gifting your admission to someone else for their enjoyment.
We are always happy to be flexible and answer your questions by email to: dhovell@magicwinerybus.ca.