Magic Winery Bus Niagara-on-the-Lake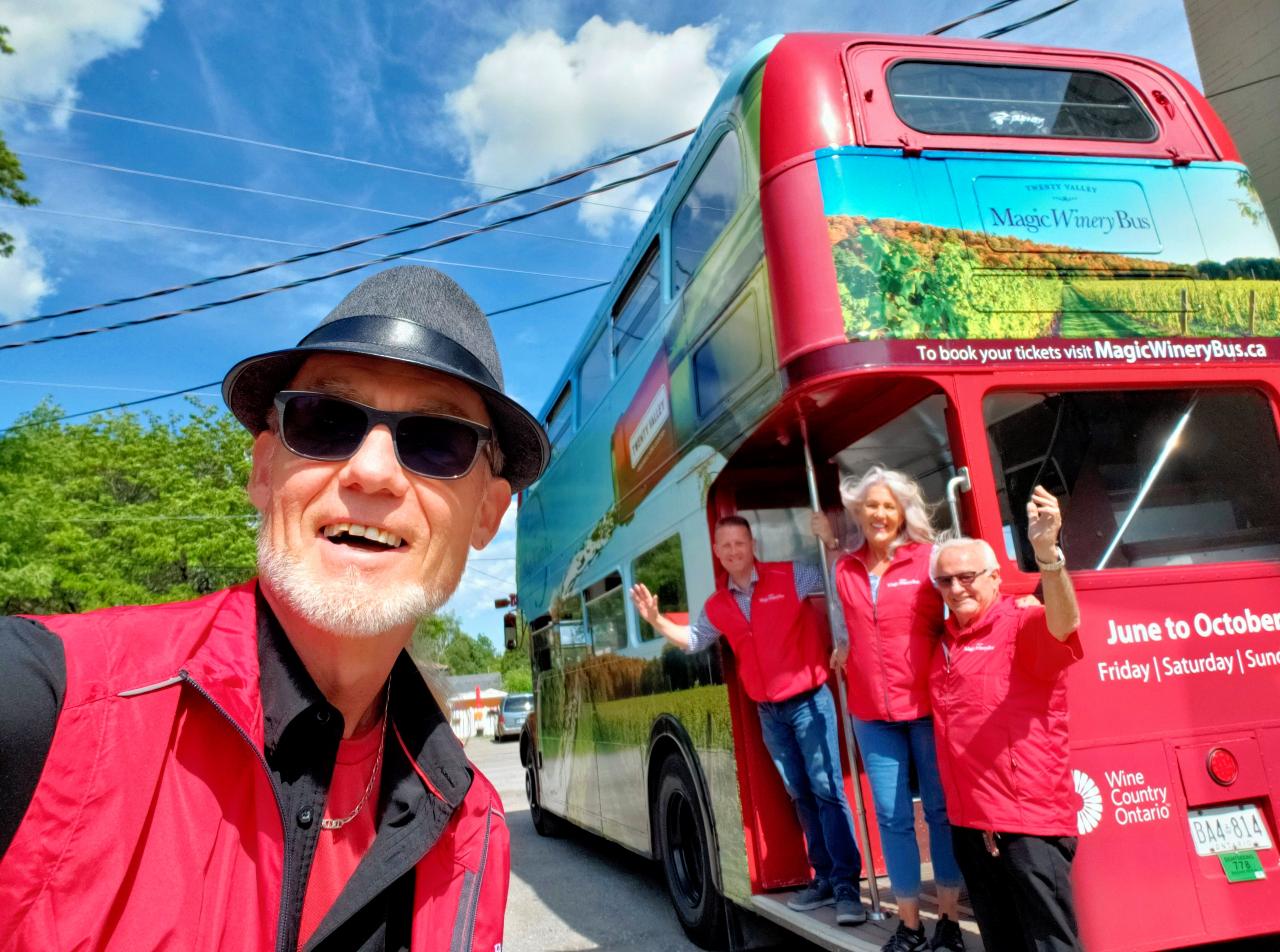 Kesto: 6 Tunnit (noin)
Paikka: Niagara-on-the-Lake, Ontario
Tuotekoodi: NotL
2022 BOOKING NOW OPEN!
Niagara-on-the-Lake - community of wineries with individual personalities as distinctive as the wines. This is where the pioneers in growing and producing world-class wines from premium vinifera varieties and have helped to shape Canadian wine culture. Add in some of the oldest grapevines in the country, imparting great character and depth to the wines. The result? Complex, delicious and award-winning wines.
Departing from Niagara Stone Road, on board a classic British Double Decker Bus (limited to 25 seats), our engaging guide will curate your journey to Pillitteri Estates Winery, Trius Winery, Wayne Gretzky Estates Winery & Distillery, Bella Terra Vineyards (PondView) and Lakeview Wine Co. Each stop will be one-hour with time for you to purchase additional tasting flights, enjoy the culinary offerings (where available) and explore the vineyards and wine shops.

Your admission includes day-long transportation, service of a guide to curate your journey, experiencing five picturesque wineries with an abbreviate tour and wine tasting experiences at each stop plus a voucher you can redeem at Wayne Gretzky Estates for food or drink on their beer garden patio. There will be some extra culinary treats and gifts too!

While we welcome group bookings, we encourage guests to limit group size to 10.

Your tour will take approximately 6.5 hours:

Departing at 10:00am returning approximately 4:30pm
Departing at 11:00am returning approximately 5:30pm
Departing at 12:00pm returning approximately 6:30pm
And to make it even easier to support local, we have a secure compartment onboard to safely stow your take home purchases, to savour all season long!

We've created a special day for you - just relax and enjoy! More than ever, you deserve a day to leave your worries behind.

Our Comfort & Safety Promise to You:

The comfort of our guests is very important, we want you to enjoy your day so, with your safety in mind:

Guests are welcome to wear a non-medical mask when checking in, on board and at the wineries
We have limited guests to twenty-five (25) per departure and each group will travel in sequence, separately
Every day Magic Winery Bus will undergo enhanced cleaning and sanitization
Our Driver, Guide and Staff will wear personal protective equipment when greeting guests
And our Driver, Guide and Staff will not shake guest's hands but there will be lots of friendly waves and smiles
At each winery, every effort will be made to deliver a safe experience. In some indoor winery spaces, for the comfort of all our guests, give each other some distance.

Our Admission Policies:

We really appreciate your business and your confidence in us. While our admissions are non-refundable, you have options; you are welcome to reschedule to a new day of your choosing or gifting your admission to someone else for their enjoyment.

If the departure day you booked is cancelled or you are unable to be on board both due to preventative public health measures, we are happy to reschedule your experience or issue a refund. Both options are at no additional cost to you.

We are always happy to be flexible and answer your questions by email to: dhovell@magicwinerybus.ca.